Stillwater's Krahn on pace to be state's fastest Miler?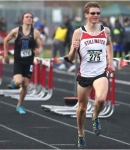 May 25, 2014
Super soph on track to reach if not surpass Minnesota Mile greats Garry Bjorklund, Steve Holman and Rob Finnerty
By Patrick Johnson, Special to the Star Tribune
Stillwater coach Scott Christensen said he believes sophomore Eli Krahn has what it takes to be the best Miler the state of Minnesota ever has seen.
"He certainly has a chance. I'd take him over anybody else if you're looking from a starting point," said Christensen, the boys' track & field and cross country coach at Stillwater since 1981.
Krahn burst onto the scene last year, winning the 1600 meter run State title in a national freshman record time of 4 minutes, 9.38 seconds.
Krahn bested a trio of talented senior teammates in the state title victory, including state cross country champ Wade Hall. The race also included highly regarded runners such as Richfield's Obsa Ali, who won the 3200m state title, and Edina record-holder Will Burke.
Krahn's finish, in one of track's glamour events, opened a lot of eyes.
"After the State Meet it got pretty crazy pretty fast," Krahn said. "I was just trying to figure out how to deal with all of it."
In his 34 years at Stillwater, Christensen has built the premier distance running program in the state. It's pretty much to Minnesota to what the University of Oregon is to the United States.
The Ponies own five state championships in track & field, including last year and in 2011, and five state cross country team titles, including 2011 and 2012. In 1997, the Stillwater track team was dubbed the "magnificent seven" and was named the #1 high school team in the country, according to the USA Today / Harrier poll.
Stillwater has accumulated a total of 25 individual state champions in cross country and track, including relay teams. In the 1600, alone, Stillwater has six state champs and four runners who went on to break the storied 4 minute mark — Ben Blankenship, Luke Watson, Jake Watson and Shawn Graham, the most of any U.S. high school.
Christensen said Krahn isn't on the Ponies' Mount Rushmore of runners — yet.
His time in the 1600 last spring didn't quite earn him the Stillwater record. That belongs to Blankenship at 4:09.18.
Continue reading at: www.startribune.com