State of the Mile Report: 2012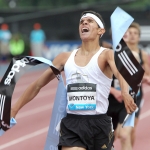 December 28, 2012
And the future looks bright for the iconic distance in the USA
By Bring Back the Mile
On January 18, 2012, Bring Back the Mile launched with a cardboard sign and video: the start of a movement to return America's Distance, the Mile, to prominence and to leverage the emotional appeal of this storied event to elevate and celebrate the great sport of Track & Field. In honor of our inaugural year we have compiled the best Mile moments in addition to the accomplishments of our prep and pros alike.
A look at 2012 and the history of our Milers over the last few years shows that America not only is undergoing a resurgence at this distance, but undoubtedly this country has the greatest depth in the world amongst Open Men and Women combined.
PROS / COLLEGIATE
Beginning with Jenny Simpson's 2011 World Championship 1500m title and Morgan Uceny's #1 world ranking at the same distance, 2012 continued to push American Milers onto the world stage led by Leo "The Lion" Manzano's 1500m silver medal at the London Olympics.
Leo Manzano earns silver in the Metric Mile at the London Olympics, while countryman and 2011 World Championships bronze medalist Matthew Centrowitz finishes 4th, missing the bronze medal by just .04 seconds. This marks the first time since Jim Ryun in Mexico City 1968 that an American male earned an Olympic medal at 1500 meters and the first time since 2000 (Jason Pyrah - 10th) that American men qualified for the Olympic final.
Shannon Rowbury finishes 6th in the 1500 at the London Olympics, the highest place by an American female ever. Unfortunately, favorite Morgan Uceny, 2011 world #1 ranked Miler, heartbreakingly fell to the track and did not finish.
BYU's Miles Batty sets the Indoor NCAA Mile record at the Millrose Games, clocking 3:54.4.
Six American men sub-3:55 and four American women under 4:30 (the latter ties record for most in the same year and U.S. women produced the three fastest Mile times of the year in the world: Brenda Martinez - 4:26.76, Kim Conley - 4:27.23 and Gabriele Anderson - 4:27.94).
PREP
Should the current crop of prep athletes provide any insights into the future of America's future great Milers, Americans will continue to flourish. On the boys side, 2013 sees the return of Bernie Montoya (4:01.32 - AZ) and Jacob Burcham (4:02.73 - WV) as well as 28 other sub-4:15 Milers vying to break that elusive sub-4 minute barrier. On the girls side, Alberto Salazar-coached Mary Cain (4:39.28 - NY) and Alli Cash (4:39.98 - KS) as well as 23 other sub-5:00 Milers dream to follow in the footsteps of 1970's teen phenom Mary Decker.
88 boys ran sub-4:15 in 2012, the most since Dyestat's TFX began keeping data in 1999.
At the adidas Dream Mile in New York City, Bernie Montoya of Arizona (4:01.32) led high school record nine boys to sub-4:05 in the same race.
73 girls ran sub-5 minutes, second only to the 2011 season when 77 achieved the milestone.
At the adidas Dream Mile in New York City, Cami Chapus and two girls went sub-4:40, the most in one high school race. At the end of the 2012 season, four had gone sub-4:40, the most recorded since Dyestat's TFX began keeping data in 1999.
Upcoming 2013 Miles
For a complete schedule of events visit our exclusive Mile Calendar. Want your Mile added to our calendar? Email milemaniac@bringbackthemile.com
New Balance Indoor Grand Prix (February 2 / Boston, MA)
Camel City Indoor Mile (February 2 / Winston-Salem, NC)
Millrose Games (February 16 / New York, NY)
Manzano Mile (March 23 / Austin, TX)
Thank you! For complete T&F coverage check out RunnerSpace, Milesplit, Track & Field News, Letsrun.com, FloTrack, USTFCCCA and a track near you. Go Mile!