Sir Roger record watch sold for £20,000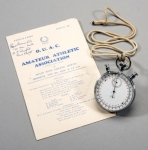 May 19, 2015
"I'm not surprised that the watch went for so much money as there has been a great interest in it. It is one of the most special watches."
From Oxford Mail
The stopwatch used to record Sir Roger Bannister's first sub-4 minute Mile record in Oxford sold for £20,000 ($31,000) yesterday.
The Swiss-made chrome stopwatch was listed by sports memorabilia specialist, Graham Budd Auctions and had been expected to fetch between £5000 and £8000.
But at yesterday's auction held at Sotheby's Auction House in London it was sold for £20,000 to an anonymous owner, along with an invoice for repairs.
It was used by W K Burfitt, a timekeeper at the Iffley Road Track on May 6, 1954, to record the barrier.
Continue reading at: www.oxfordmail.co.uk