Sir Roger Bannister's new "record" from Guinness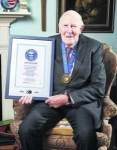 December 12, 2014
"To be a record breaker I think you have to have determination and you have to be prepared for upsets and reverses which I certainly had in my career. The other factor is luck."
From Oxford Mail
Sub-4 minute Mile hero Sir Roger Bannister has been honored by Guinness World Records to mark 60 years of the organization.
The 85-year-old Oxford resident has been presented with a certificate and medal alongside other sporting legends from the last six decades.
He was the first person to run a Mile in less than 4 minutes, clocking an event changing time of 3 minutes and 59.4 seconds at Iffley Road running track on May 6, 1954.
Guinness has also commissioned a short film about his achievement which includes a tribute from two-time Olympic gold medalist, fellow Mile legend and countryman Lord Sebastian Coe.
Continue reading, includes tribute video, at: www.oxfordmail.co.uk