Simons, Legg Win Encinitas Mile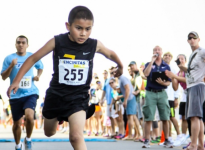 March 19, 2015
New records set at race's second edition
By Tony Cagala, The Coast News
The Encinitas Mile saw some of its fastest times recorded yet in the race's short two-year history, including the possibility of a new World Record.
Jason Parra, 8, of Lakewood, Calif. may have the new world record in his age group, finishing the Mile with a time of 5:34.
Race organizers Dan Seidel and Mark Sarno are working to ratify the record in order to make it official, though it may not be known until later this fall.
John Simons, 24, of Blowing Rock, N.C., set a new men's elite record for the event with a Mile-time of 4:14, beating out last year's fastest finisher, Sergio Gonzalez by seven seconds. Finishing just two seconds behind Simons was 35-year-old San Marcos resident Brian Sullivan.
"It feels pretty good," Sullivan said of running the course on Vulcan Avenue (from F Street to Santa Fe Drive and back) in just over four minutes. "Anytime you go out there and run as well as that, it feels good — a sense of accomplishment."
Continue reading at: thecoastnews.com