Shannon Rowbury Interview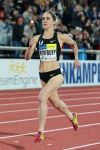 January 02, 2015
I have some time before I have to make a decision on which distance to race in the Olympics and I will watch and see how the competition pans out as we get closer.
By Christopher Kelsall, AthleticsIllustrated.com
Shannon Rowbury is one of America's best middle-distance runners. She has competed in the 2008 Beijing and 2012 London Olympic Games, specializing in the 1500m distance.
Originally from San Francisco, she attended Duke University where she earned a Master's degree in Film and Women's Studies. She had a competitive college career earning All-American status in her sophomore year. She set the following Duke University distance records: 800m, 1500m, indoor Mile, 3000m, 5000m and steeplechase.
She signed with Nike in 2007 and currently trains under Alberto Salazar. During the 2009 IAAF World Track & Field Championships, she won a 1500m bronze medal. In terms of personal record performances, the 2014 season may have been her best to-date, as she set new standards in the 1500m, 3000m and 5000m distances.
Shannon is the all-time fifth fastest American in the 1500m distance with her PR of 3:59.49 behind Suzy Favor Hamilton, Mary Slaney, Jenny Simpson and Anna Willard. She is the fourth fastest in the 5000m with her best of 14:48.68, behind Shalane Flanagan, Regina Jacobs and Molly Huddle and the third fastest in the 3000m with her 8:29.93 record behind only Slaney and Simpson. The two-time Fifth Avenue Mile champion (2009-10) has a track Mile PR of 4:20.34 from 2008 and only Mary Slaney has run a faster track Mile by an American woman.
Continue reading at: http://athleticsillustrated.com