Sarah Brown Gears Up for Baby, Olympic Trials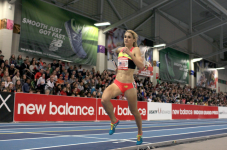 September 23, 2015
Despite March 21 due date, Miler hopes to compete at the track Trials next July.
By Alison Wade, Runner's World
Last week, Sarah Brown, a top American 1500 meter runner, made the surprise announcement that she and her husband, Darren Brown, a sub-4:00 Miler and University of Texas All-American, are expecting a child, due March 21, 2016.
It's not uncommon for female professional runners to take breaks from their athletic careers to have children. But it is uncommon to do so in an Olympic year, with the due date less than 15 weeks before the Olympic Trials begin. Brown blogged that the pregnancy was not planned—she had been using an intrauterine device (IUD) for birth control—but she still intends to take a shot at making the Olympic team.
"If the odds can be so stacked against me getting pregnant and yet I still manage to find a way, then who's to say that I can't beat the odds again?" Brown wrote on her blog. "I already have the Olympic standard and am qualified for the Trials in 2016. This alone is enough motivation to get to the line ready to compete for a spot on the toughest team in the world to make. Only this time, I will have one more fan cheering me on."
Continue reading at: runnersworld.com