Sadly, U.S. track renaissance is leaving Alan Webb behind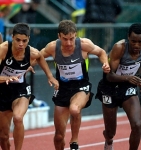 June 26, 2012
"If I had anything to do with that... maybe I inspired everybody too much, maybe I created a monster...''
By Tim Layden, Sports Illustrated
EUGENE, Ore. - It has been all the talk for nearly a decade now, that middle- and long-distance running in the United States has been resurrected from the depths of the 1990s (when Bob Kennedy did pretty much all the work himself, and work that cannot be discounted for influencing what has occurred since) to a point where American men and women are genuine medal threats (albeit nothing resembling medal certainties) in nearly every event from 800 meters to 10,000 meters.
This renaissance was in plain view again Monday night in the U.S. Olympic Track & Field Trials at Hayward Field, where fans again sat through a cold, intermittent Cascades rain. They watched as Nick Symmonds and Alysia Montano thoroughly dominated the men's and women's 800 meter finals and as Bernard Lagat and Galen Rupp cruised easily into the finals of the men's 5000.
For Symmonds, his victory in 1:43.92, as he cruised into contention on the second lap and rolled down the homestretch, was his fifth consecutive national title and represents further evolution that's evident in the numbers. His first national title came in winning the epic 2008 Trials race here at Hayward; he was eliminated in the semifinals in Beijing. In 2009 he again won the national title and finished sixth in the world. Last year he was U.S. champion again and finished fifth in the world. With the incomparable David Rudisha of Kenya massively favored in the 800, the gold medal is not in play, but surely Symmonds is a threat for silver or bronze.
Contine reading at: sportsillustrated.com