Ryun raced to only one NCAA outdoor title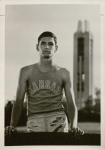 November 05, 2020
From USTFCCCA
Jim Ryun of Kansas was about as big a favorite as could be to win his first NCAA outdoor title at the 1967 NCAA Outdoor Track & Field Championships in Provo, Utah. He had set world records in both the Mile and 880 yards in an undefeated 1966 outdoor season.
Ryun's first collegiate season – which came before the NCAA allowed freshmen to compete on the varsity level – was so spectacular that Track & Field News named him 1966 World Athlete of the Year.
The excitement when Ryun ran at the 1967 NCAA Outdoor Championships boiled down to when he would unleash his killer kick, especially since no one expected a fast pace with the meet being held at altitude. Ryun waited until the last lap to raise the heat, burning a 52.5 last quarter, with 23.9 coming on the final 220 to win easily in 4:03.5.
Ryun's winning margin that day of 2.5 seconds seemed large, but not compared to his world records from 1966 – including a 6.7-second victory when, at 19, he became (and remains) the youngest man to set a world record in the Mile (3:51.3).
Ryun had some early pacesetting help in that 1966 Mile WR effort, but the legend chose to do all the work himself a week after the 1967 NCAA Championships. The situation of the AAU national championships in Bakersfield seemed unlikely for a Mile record attempt, but Ryun went after it – storming home with a 53.7 last quarter to win by five seconds in a 3:51.1 that would last as the global standard until 1975.
Two weeks later, Ryun added the 1500 meters to his WR collection, running a last lap of 53.3 to win by 4.1 seconds in 3:33.1. That record stood until 1974.
Ryun, who became the first repeat World Athlete of the Year by TFN with his 1967 season, finished his collegiate career with five combined indoor / outdoor NCAA titles, then the most by a middle-distance runner. The longest-lasting of his all-time collegiate bests was his first WR of 1:44.9 for 880 yards in 1966 – the converted 1:44.3 for 800 meters was finally surpassed 50 years to the day in 2016.
NOTE: The only other NCAA champion elected to the U.S. Congress was Marquette's Ralph Metcalfe (Illinois, 1971-78). While not an NCAA champion, Stanford's Bob Mathias also served in Congress (California, 1967-75), but the two-time Olympic decathlon gold medalist competed before the decathlon was included in the NCAA Championships (Mathias was second in the 1951 discus and 1952 110 meter hurdles).