Run Your Fastest Mile Ever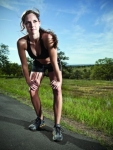 April 07, 2015
Regardless if you're a newbie or advanced runner, the Mile is a distance that you can master!
By Matt Fitzgerald, Women's Running
What's your Mile time?
Runners are always looking for new challenges. Some people get bored of 5Ks and start doing obstacle races. Others graduate from improving their half-marathon time to tackling the full 26.2-miler. Here's a new challenge to consider: See how fast you can run a Mile!
There's something magical about the Mile. It is the fundamental unit of long distance in the English measurement system. In the 1950s, the pursuit of the first sub-4 minute Mile for men, and sub-5 minute Mile for women, captivated the world. Now it's your turn to pursue your own fastest time. Plus, regardless if you're a newbie or advanced runner, this is a distance you can master!
Training for the Mile
You might assume that training for the Mile is all about speed. It's true that speed work is important in Mile training. But as the legendary running coach Arthur Lydiard pointed out in a famous 1962 article for Sports Illustrated, titled "Marathons for Milers," there are plenty of people who can run at a world class Mile pace for 400 meters. It's the ability to sustain that speed that separates the elite Milers from the rest. So optimal Mile training puts as much emphasis on stamina as speed.
These three plans do just that. Each is eight weeks long and contains a recovery week halfway through the plan. At the end of the recovery week, you will run a 1-Mile time trial as practice for your real 1-Mile race four weeks later.
Continue reading at: womensrunning.competitor.com