Run a Mile with Rankin: The Dream and the Return of the Mile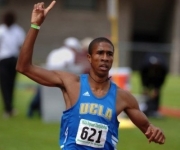 May 31, 2013
Jon Rankin serves as BBTM's California Captain for the state petition drive to replace the 1600m with the Mile at the High School State Meet. He will be providing occasional posts on his journey as the California Captain. Below is entry number #1 to kick off the 2013 State Meet that begins this afternoon in Clovis, CA (visit dyestatcal.com for complete coverage). Jon is sub-3:55 Miler, UCLA alumnus and California prep standout. He is the co-founder of The Run Project, a website that connects runners with non-profits and founder of Giving Athletics, a non-profit company that brings running programs to underserved communities and schools.
Sign the CIF Petition to Replace the 1600m with the Mile today!
Entry #1 - The Dream and the Return of the Mile: A Worthy Quest
I still can't believe it's been more than 15 years since I officially became not just a runner, but a Miler. And, thanks in large part to the guys at Bring Back the Mile, their gentle nudge to have me look back on my days as a high school Miler has helped to me realize how amazing my journey as a Miler has been. As a much wiser Miler than I was when I was just 15-years-old, I want to share my story and experiences with the future Milers of this sport.
From Hightops to Spikes
My journey as a Miler started in the summer of 1996. As I sat on the living room floor in front of the television, I received my introduction to what it looked like to fly without wings. The man who flew without wings wore a suit that had the same colors as that of Superman's uniform, those colors being red, white and blue. The name of this heroic figure and my inspiration to become a track & field athlete is Michael Johnson.
Now I know what you're thinking. Michael Johnson isn't a Miler. Well, he might not have been Jim Ryun, one of my running idols, but watching Michael win his two gold medals in the most glorious fashion had set me on a new path from wanting to be like the Mike who wore high tops to wanting to run like the Mike who wore spikes. Even though I didn't know how I was going to get from the white lines on the blacktop to the starting line of an Olympic Games, I started running anyway. I just knew I needed to start first and figure out all of the details along the way.
The Cool, Mysterious Distance
The Mile is a very unique distance. It has somehow always been "cool" and "mysterious". Even the great 5000 meter and iconic runner, Steve Prefontaine, wanted desperately to be a Miler. This weekend the Prefontaine Classic runs not only the Bowerman Mile, but the International Mile, where Bernie Montoya (HS Senior - AZ) will attempt to become the sixth U.S. prep to break the "magic" four minute barrier.
California's own Meb Keflezighi, 2004 Olympic Marathon silver medalist, stated in his book, Run to Win, "I haven't run the Mile competitively since 1998. It bothers me more now than it did in high school that I've yet to run a sub-4 Mile. Part of me still remains a Miler."
Words like: dream, magic barrier and the other kingdom are used as adjectives to describe it mysteriousness. Even the names of the toughest events and conquests in the world are used to help more accurately describe noteworthy achievements at this distance.
There is no other event in track & field more relatable and easily understood by runners and non-runners alike than the Mile. As much as I'd like to think I was smart enough to choose track & field's premier event, I really believe it chose me.
A Mark Measured by the Moment and by History
As I Iook back on just the beginning of my journey as a Miler, I wonder what it would have been like to race the Mile at the California State Meet. I only competed in the state meet one time, and that was as a sophomore. Why would it have been a big deal for me to compete in the Mile at the California State Meet? I would have been a part of something that has the deepest, richest history not only in the sport of track & field, but all of sports. It's an event in which achievement is measured not just in the moment, but against all of time.
We still talk about in awe Jim Ryun, Tim Danielson, Marty Liquori, Alan Webb and Lukas Verzbicas. We will continue to, maybe forever, because they broke the 4-minute Mile barrier while still in high school. I think more will become a part of this special group if the 1600 meters is replaced by the Mile at most if not all high school meets in California. I ran 4:10 for the Mile in high school. But who knows, maybe I would have run faster in high school had there been an opportunity to the run the Mile every time I competed.
I'll never know the answer to my personal question, but I'd like to see high school Milers today and in the future have a chance to answer that question while they're still in high school. I accepted the opportunity to be California's Mile Captain in order to help "Bring Back the Mile" in California because I want those upcoming Milers - boys and girls - to have the chance that I didn't have to become a part of history. In many ways, being a part of the Bring Back the Mile team in order to make the Mile America's distance again will be just as great of an achievement as breaking the 4-minute Mile barrier. Take it from someone whose broken that barrier many times...it means that much to me to bring back the Mile for high school runners across the U.S!
I mean, really, is it that hard to add 9-plus meters? Go Mile!