Roger's four minutes to immortality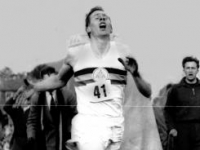 May 08, 2012
By Stephen Wilson, Irish Examiner
OXFORD - Roger Bannister remembers those fabled four minutes as if they were yesterday.
Like a proud patriarch regaling wide-eyed children, the 83-year-old avidly recounts that magical four-lap race on a cinder track in Oxford on May 6, 1954 — an event that still stands as a transcendent moment in sports.
3 minutes, 59.4 seconds.
"It's amazing," says Bannister, expressive as ever, "that more people have climbed Mount Everest than have broken the 4-minute Mile."
The enduring black-and-white images of Bannister, eyes closed, mouth agape, straining across the finish line at the Iffley Road track, symbolise the supreme test of speed and endurance that captured the public's imagination. It made him a global celebrity as the first man to run the Mile in under four minutes — the mythical barrier that some thought was beyond human reach.
With London hosting the Olympics this summer, the Oxford-educated neurologist knighted Sir Roger in 1975 finds himself in the spotlight again, the embodiment of sporting achievement in Britain.
Continue reading at www.irishexaminer.com