Returning Champion Michael Coe Headlines HOKA ONE ONE State Street Mile 2015 Field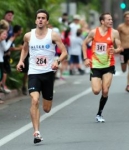 June 02, 2015
Course record holder faces top men's field including former UCSB Gauchos Scott Smith & Juan Paredes; top women include 2013 race champion Katja Goldring, Valerie Sanchez and local Jill Himlan; 16th edition offers an event record prize purse; race proceeds go to District Attorney's Crime Victim Emergency Fund
SANTA BARBARA, Calif. – Michael Coe, 2013 race champion and course record holder, returns to the HOKA ONE ONE State Street Mile on Sunday, June 7. At the 2013 event, Coe (right), 27, from Oakland, ran 3 minutes, 49 seconds to set the current course record, and also the fastest Mile in California, on the gradual downhill, point-to-point course in beautiful downtown Santa Barbara.
"For our 16th edition, it is great to see Michael Coe, who grew up in nearby Lompoc, return to defend his 2013 title, and with former Gauchos Scott Smith and Juan Paredes also in the deep men's field, the course record could fall again," said race director Megan Rheinschild. "On Sunday, June 7, we look forward to seeing everybody, humans as well as dogs running down State Street and enjoying Santa Barbara's annual road mile tradition."
Coe's main competition should be UC Santa Barbara 5000 and 10,000 meter record holder Scott Smith, 28, who lives in Oklahoma City, and Juan Paredes, 25, from Santa Ana, the 2014 race runner-up (3:56). Other top men expected include Aric Champagne (San Luis Obispo, CA), third in the last two race editions; David Cardona (Torrance, CA), fifth in 2014 State Street Mile; Falco DiGiallonardo (Ventura, CA); Jorge Jabaz (Anaheim, CA); Kyle Medina (Chico, CA); Dylan Peterson (Hood, CA) and Germay Tesfai (Fresno, CA).
The top women for Sunday's race are 2013 State Street Mile champion Katja Goldring (Los Angeles) who won in 4:34; Valerie Sanchez (Los Angeles), fourth last year (4:46); Ayla Granados (Chico, CA); Arielly Conde (South Gate, CA), Diane Heiser (San Francisco) and Jill Himlan (Santa Barbara).
Race day kicks off at 8:00am with seven age group categories (14 & under, 15-19, 20-29, 30-39, 40-49, 50-59, 60-plus) followed by the popular Family Mile, the Elite Miles and capped off with the not to be missed, tail wagging fun, Dog Mile, the unofficial world championship.
An event record guaranteed prize purse of $5700 will be awarded (Open and Masters 40-plus age-graded) plus $1000 for Open course records (3:49 – men and 4:33 – women). The event is again part of the local SBAA Grand Prix and Junior Grand Prix Series.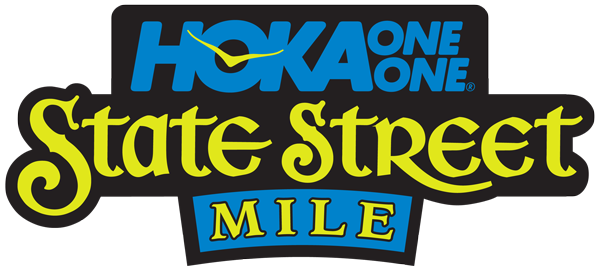 Event Registration & Packet Pickup
Online registration will remain open until Thursday, June 4 at 11:59pm PST (go to: www.sbmile.com). On Saturday, June 6, there will be event registration and bib number pick-up available at Santa Barbara Running Company from 11:00am to 4:00pm (downtown, 110 Anacapa Street). Also at 7:00am race day, bib number pick-up and registration starts at Pedregosa and State Streets in Santa Barbara. The race finishes at State and De La Guerra Streets.
All proceeds go directly to the District Attorney's Victim-Witness Assistance Program's Crime Victim Emergency Fund.
About the State Street Mile
The 16th HOKA ONE ONE State Street Mile, featuring a gradual downhill, point-to-point course, is also a Bring Back the Mile Featured Event, showcasing the best Miles in America and throughout the year.
To register or for more information, go to: www.sbmile.com