Q&A: The Newest Sub-4 Miler Michael Slagowski and Coach Bob Hays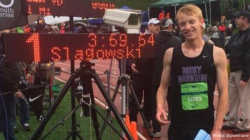 May 09, 2016
The newest HS sub-4 Miler talks making Mile history, Drew Hunter and his predictions for the next sub-4 HS Miler.
By Johanna Gretschel, FloTrack
Meet the newest member of the high school sub-4 club, Michael Slagowski of Rocky Mountain High School in Idaho. Before his 3:59.53, the New Balance Nationals Indoor 800m champion set the track world ablaze with solo runs of 1:48.70 for 800m and 4:05.71 for the Mile. Jojo spoke to Slagowski and his coach, Bob Hays, about the historic moment and what comes next.
Jojo: Congratulations on the sub-4! Can you describe that night at the Nike Jesuit Twilight meet in Portland?
Michael: About a week and a half before the meet, Anthony decided he would pace it. The first lap was 59-60 seconds; we were gonna try to be at the 800m at 1:59 or 2:00. We were at 2:02 through 800m, so I just went. I think the third lap was 57 or 58, and then 60.
The atmosphere was really cool, there were a lot of people on the infield cheering. The announcer was telling the crowd I was going after it. At the end, I was pretty sure I broke it. The clock said 3:59 and it paused on the 3:59. I was just really happy and then I heard the confirmation.
Continue reading at: flotrack.org