Q&A: Leo Manzano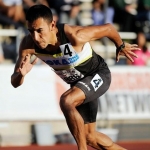 February 03, 2017
I think when it comes down to it, I just love to compete. And there's something about championship-style races. There's also something to be said about when it's time to line up... I think that that's what takes me to the next level.
By Jonathan Gault, LetsRun.com
2016 was a rough year for Leo Manzano. For the first time in his career, he failed to finish in the top three at USAs (ending a remarkable 10-year streak), in large part because of a recurring illness that left him bedridden and unable to walk just nine weeks before the Olympic Trials. Somehow, Manzano almost made his third Olympic team anyway, finishing just one spot behind third placer Ben Blankenship.
Now Manzano is healthy again and ready to kick off his 2017 season at Saturday's Camel City Elite at the JDL Fast Track in Winston-Salem, N.C., where he'll face fellow Olympic silver medalist Paul Chelimo in the Mile. Manzano is also entered in the Wanamaker Mile at the Millrose Games on February 11 and plans to run the Mile at the USA Indoor Championships. I caught up with Manzano over the phone on Wednesday night at the conclusion of an altitude trip to San Luis Potosi, Mexico. We discussed his incredible comeback from illness at last year's Olympic Trials, his love of competition, why he chose to compete for the U.S. rather than Mexico, his parenting approach and much more.
JG: I know last year you kind of had some sickness or some injury. Have you been healthy since the end of last season?
LM: Yeah, you know last year, it was one of those years, just kind of a crazy year. Everything was like Murphy's Law: anything thing that could have gone wrong went wrong. Fortunately, I was able to somewhat bounce back. I was off only about two-tenths of a second in that final (Manzano was actually .44 away from third). But looking back, all the adversity I had to face, from a death in the family to pneumonia, to being sick a few more times, even to a coach change. I look back on it, and looking at all that, I think it still ended up being a very good year. Top four at the Olympic Trials [when the top two] broke the Trials record. And so I think about that and I'm like man…
And I think that this year, everything looks to be going according to plan. I'm healthy, I'm feeling strong, I haven't had any setbacks thus far, knock on wood. And so I'm excited about this year, I think it's going to be a good year…I've gotta hand it to coach Ryan Ponsonby for really stepping up and we've been hitting it hard. I think he's really helped me as an athlete and I think going forward, I'm going to be better prepared than what I was last year, especially [since] we haven't had as many setbacks.
Continue reading at: letsrun.com