Pro Q & A: Joe Stilin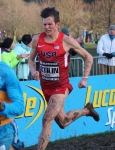 May 09, 2016
The Princeton University graduate brings a 3:58.66 Mile personal best with him to the Medtronic TC 1 Mile; 2nd stop on BBTM Grand Prix Tour 2016
From Twin Cities In Motion
Joe Stilin, a graduate of Princeton University, brings a 3:58.66 Mile personal best with him to the Medtronic TC 1 Mile next week. Judging from his answers to our questions below, he'll likely also bring a quirky sense of humor and, perhaps, a set of drumsticks for his days with the cover band "Team Sack Lunch." Get to know Joe, below, in the first in a series of Pro Q & As with the members of the Medtronic TC 1 Mile USATF 1 Mile Road Championships field.
What's your goal for the Medtronic TC 1 Mile?
The goal is always to give everything, compete for the win, and give the fans a great show.
Continue reading at: www.tcmevents.org