Prize Recruit — Marlee Starliper (NC State)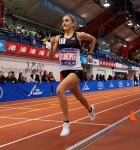 November 07, 2020
"And individually—it's crazy to say—but I really have big goals and would love to be an NCAA champion. I don't know exactly what event, but it's definitely a goal of mine."
By Jeff Hollobaugh, Track & Field News
It wasn't much of a track season—only 6 indoor meets—but Marlee Starliper (Northern, Dillsburg, Pennsylvania) was glad for all that she got in 2020. The middle distance star had come into the indoor season with high hopes after a junior campaign in which she won the New Balance Mile, USATF Junior 3000 and added silver at the Pan-Am Juniors. Then she produced the fastest runner-up finish ever at the Foot Locker cross country finals.
As for her abbreviated undercover campaign NC State's prize recruit says, "It was one of my favorite seasons. I'm just so thankful that I got a really, really special race at Millrose." There she successfully defended her Mile title with an event record smashing 4:37.76 win that moved her to #4 all-time among preps indoors.
A week later, she blistered a 3000 on the Boston U track in 9:07.14 to become #3 all-time. "I'm just so thankful," she says again. "I didn't know it would be the end of my high school career, but I'm glad I had the opportunity for those races.
"I knew that I was capable of running those times, but I think it was how the Millrose race physically felt like that shocked me. Just how great I felt physically and relaxed. I mean, I was ready to just hop into another race to try to beat that time again. They were both so exciting."
Starliper was so geeked after those races that she couldn't wait to run in the New Balance 2 Mile: "I was definitely looking to run a fast time. I wanted to try to break the 9:50 barrier. Obviously, I didn't have the opportunity, but I was just so thankful that I got to show [my conditioning] in that 3K."
Hailing from a town of less than 3,000, southwest of Harrisburg, Starliper enjoyed a storied prep career, one she fell into quite naturally as both of her parents are running enthusiasts and had competed in Division III.
"They weren't, um, you know, elite," she says with the sensitivity of a good daughter. "My dad, I basically have run his Mile PR, although he says that I ran it in a 1600 and not actually the Mile, so I didn't quite…" she laughs.
"My mom, she never stopped running. I'd always see her going out for a run, and then my sister is two years older and she started running in high school. Of course, a little sister has to give it a try. I just really fell in love with it. After my freshman year, I surprised myself a lot.
"It led me to some good races and I realized then how good I could be. I just committed myself to the sport and it's been such an incredible journey."
Along the way, Starliper has won 3 State titles in cross country. On the track, her fortunes were more mixed. Last year, for instance, she lost the state 1600 crown to rival Taryn Parks in a barnburning 4:37.07–4:37.45 finish.
And therein lies one of her secrets of success: "My coach and I always tried to seek out the best competition I could get. I wanted to race against all the other girls who were such incredible runners in the nation and take the opportunity to bring out the best in each other."
It's easy to find examples where Starliper might have enjoyed easy wins but instead opted for the tougher race. In learning to win, she realizes, she had to learn to lose.
"I can honestly say that I'm so thankful for all the losses I have had. I'm just so passionate about the sport, there were instances where it really felt like heartbreak. But every single time, I had such big takeaways. I'm always very quick to pick out what I've learned from it and just fix it up next time.
"Honestly, it's led to some really big breakthroughs. Those disappointments and those losses, they totally shaped me as a runner. The impact that this has had really helped build up that mental strength."
Continue reading at: trackandfieldnews.com