Prepping for the Liberty Mile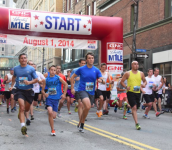 July 21, 2015
Mike Pacolay decided to run the GNC Live Well Liberty Mile this year "because other guys in my department are running and they are competitive about who will beat who and have the bragging rights after the race..."
By Shannon Hunter, Highmark Runs Blog
There is a wonderful and diverse running culture here at Highmark. No matter what kind of running you do, you're bound to find plenty of co-workers who share your interests.
The Highmark blog reflects that. Click the "running" tag at the bottom of this article and you'll find everything from Stacy Byers' wonderful Transformation Tuesday series, including tales of training for and running a marathon, to an article on the Running 101 program (which has nurtured runners of every variety), to Meggan Hostuttler's inspiring piece about honoring her brother's fight against cancer by running a marathon to raise money for cancer research … as well as pieces in this series like my article on the EQT Pittsburgh 10-Miler.
In terms of running events, marathons understandably get lots of attention. And 5K events have become ubiquitous. What you may not know, however, is that there is also a movement to "Bring Back the Mile." In fact, there is a one-Mile race coming up in Highmark's hometown of Pittsburgh — and I talked to a few employees who are participating.
Continue reading at: blog.highmark.com