Philibert-Thiboutot to run storied Wanamaker Mile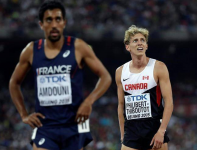 February 05, 2016
Graham Hood, in 1995, is the only Canadian to win the world-famous indoor race at the Millrose Games in New York City
From The Canadian Press
When Charles Philibert-Thiboutot races the Wanamaker Mile, he'll be adding his name to one of track and field's greatest stories.
The 25-year-old from Quebec City has been awarded a lane in the marquee race of New York's Millrose Games, the world's longest running and most prestigious indoor meet.
"While I was running as a collegiate (for Laval Rouge et Or), when you get to see a track meet on TV, that does not happen often, and Millrose Games is broadcast on NBC, so I was able to watch it live a few years," Philibert-Thiboutot said.
"It was always really cool to see that event unfold and to see how the Mile was the king event, and how there was excitement for the Mile."
Continue reading at: thechronicleherald.ca