Peter Snell Interview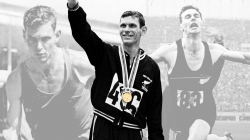 May 01, 2011
There were other very nice moments such as when I was trying to run a sub-4 minute Mile and ended up breaking the World Record!
By Gary Cohen
Peter Snell of New Zealand won the gold medal in the 1960 Olympic 800 meter run in Rome, Italy by 0.07 seconds, clockng 1:46.48. Four years later in 1964 in Tokyo, Japan he repeated as Olympic champion in the 800 meters by half a second in an Olympic record time of 1:45.1. He added an Olympic gold medal in Tokyo at 1500 meters, winning by more than 10 meters in 3:38.1. Snell is one of only three men to win successive Olympic 800 meter titles and was the first in over 60 years to complete the 800 / 1500 meter double in the Olympics. He set World Records of 1:44.3 for 800 meters in 1962, 3:54.4 & 3:54.1 for the Mile in 1962 & 1964 and 2:16.6 for 1000 meters in 1964, which are all his personal record times. At the British Commonwealth Games in 1962 in Perth, Western Australia, Snell won gold medals in the Mile and at 880 yards. Peter was named 'New Zealand's Sports Champion of the Century,' made a 'Member of the British Empire' and appeared on a New Zealand commemorative postage stamp. He earned a Doctorate in Exercise Physiology and is a world-renowned exercise physiologist at the University of Texas in Dallas. Peter and his wife, Miki, of 28 years reside in Dallas, Texas.
GCR: You've had some health issues in recent years which even prevented your attending a 50 year celebration of your first Olympic victory in 1960. How is your health currently and is there anything in particular on which you and your doctors keep a keen eye?
PS: My health is pretty good to be quite honest. It is improved as medication is controlling the arrhythmia and I have a pacemaker and defibrillator inside of me. The defibrillator went off one time when I collapsed on the racquetball court. I've concluded that if I exercise too hard it can trigger the arrhythmia. The pacemaker recorded the event and my heart rate was 250. So with no warning I just passed out. After about ten seconds the defibrillator kicked in and I was back to normal. I do ride my bike, but not fast – I don't try to hit 20 miles per hour! Moderate exercise is the key for me. I can do the 10K distance, but now I walk instead of running. Regarding the 50 year celebration of my 1960 Olympic win, I do get a bit tired of rehashing my exploits each time there is another anniversary year and the health issue gave me an important reason to stay home and not attend the occasion.
GCR: It is hard to believe that five decades have passed since you won the gold medal in the 800 meters at the 1960 Rome Olympics. You weren't one of the favorites, but how did you feel about your chances to medal and to win?
PS: When I arrived in Rome I was not thinking about medals or winning. I was thinking about making the final. I kept my expectations within reach. I didn't like pressure and felt that if my expectations weren't too high that I tended to have more success. I also looked at what it took to make the final in 1956 and thought I could do it. My form early in the year was a 1:48.5 which I thought was good since I wasn't in peak training. Though some people were saying with the depth of good 800 meter runners I would have to break the Olympic record to make the final.
Continue reading at: garycohenrunning.com