Oxford City Council proposes renaming ward to honor Roger Bannister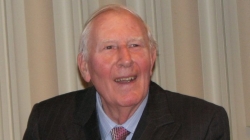 August 16, 2018
"A small way the city can honor that connection with him and it seems entirely appropriate considering this area includes the track in which he made that absolutely astonishing historic achievement."
By Isabel Morris, Cherwell
Oxford City Council has proposed changing the name of St. Clement's ward to Bannister in memory of Sir Roger Bannister, an Oxford athlete and former Master of Pembroke College who passed away in March.
The proposal comes as part of the council's review of city wards, which began last November.
The ward in question – which is surrounded by the wards Holywell, Churchill and Bartlemas – includes the Iffley Road running track, where Bannister became the first person to run a Mile in under 4 minutes in 1954.
After winning a gold medal at the 1954 Commonwealth Games, Bannister went on to become a leading neurologist and served as Master of Pembroke College between 1985 and 1993. He was knighted for his services to sport in 1975.
Bannister was also conferred the Oxford Freedom of the City in 2004 and is an Honorary Fellow of both Exeter & Merton Colleges.
Continue reading at: cherwell.org