Oregon Track and Field Standout is Back to Being Fleet Afoot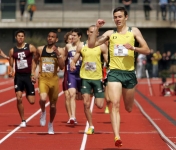 January 25, 2013
Mac Fleet returns to the track after debilitating foot injuries
By Curtis Anderson, The Register-Guard
Mac Fleet is hoping to regain his identity as an elite middle distance runner this season.
The Oregon record-holder in the indoor Mile hasn't competed on the track in nearly two years because of a debilitating foot injury.
At one point last spring, after months of daily treatment failed to alleviate the pain from a severe case of plantar fasciitis in his left foot, and the fat pad beneath his heel began showing signs of deterioration, the UO junior thought his career was over.
As Fleet struggled through workouts, he was actually trying to tear the plantar, because he believed the recovery process would be easier than undergoing surgery. He said he started drinking to mask his growing depression.
"Last year was an unbelievably dark time," said Fleet, who won Pan-American and U.S. junior titles in the 1500 meters in the summer of 2009.
Continue reading at: registerguard.com