On the Brink of Greatness: Gabriele Grunewald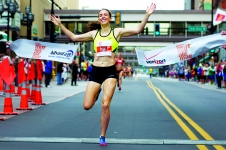 January 27, 2014
"It's undeniable that the depth of American mid-distance running is incredible and unprecedented right now."
By Scott Bush, RunnerSpace.com
Ranked U.S. #4 in the 1500m each of the past two seasons, Gabriele (nee Anderson) Grunewald is on the cusp of smashing through the brick wall that is a top three event ranking and spot on Team USA. Despite a bit of disappointment at the USA Outdoor Track & Field Championships in 2013, Grunewald had another successful season, running new PRs of 4:01.48 (1500m), 2:01.38 (800m) and 8:42.64 (3000m) and ran the fastest road Mile by a woman in Minnesota - ever, clocking 4:21.3.
Grunewald kicked off her 2014 season with a runner-up finish at the Glasgow International Match, running a strong season debut of 4:12.76 for second. With eyes set on bigger goals and performances, Grunewald is poised for another terrific season.
We caught up with the Team USA Minnesota runner recently, discussing the season ahead, how's she evolved as an athlete since college, continued improvement and so much more. This is a must read for any middle distance fan.
Scott Bush (SB): You had quite the 2013 season, setting new PRs over 800m and 1500m. Looking back, how happy were you with your season?
Gabriele Grunewald (GG): Thanks! I look at the 2013 season as one of a mixed bag in terms of results, but one that allowed me to get a lot of valuable racing experience that will help me in the future. I got a late start to my training last fall/winter due to a foot issue and I don't think I realized how much that would affect me early to mid-spring when I really wanted to be confident and running fast.
Unfortunately my early races were pretty rusty and that was a challenge for me going into the USA Champs. It was a big goal of mine to make the world team for Moscow, so I was really disappointed with how I performed at the USA Champs in June. After USAs I was able to pull myself together and had a really great month of racing in July in Europe -- I just wish things had clicked for me a little sooner.
And I never take PRs for granted so I'm pretty thrilled to have another year of setting personal bests in the 800, 1500m and 3000m. A "fun fact" is that I've set a 1500m PR every season but one (2008 I ran within 1 second of PR) since 2007, even with health setbacks and minor injuries here and there. That kind of improvement is really gratifying and it just makes me excited to keep training to see how fast I can really go. In 2013, the 1500m PR in Monaco stands out to me as the highlight of my season probably. It helped reassure me that even though I missed out on Moscow that fitness-wise, I was the best runner that I've ever been.
Continue reading at: www.runnerspace.com