Olympian Morgan Uceny wins the 25th High Street Mile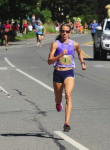 August 03, 2015
Proceeds from the event are going toward the Friends of Newburyport Track, which is a newly formed organization dedicated to getting a state-of-the-art track & field complex.
By Dan Harrison, Daily News
Familiarity doesn't always breed success.
Nearly 600 runners showed up for the 25th High Street Mile yesterday, but it was a pair of first-timers in the event who took home first place honors in the men's and women's Open divisions.
Allston's Steve Mangan captured first place in the men's division with a time of 4:11.7, while Brighton's Morgan Uceny turned in a first-place time of 4:43.0 as both runners were competing in the High Street Mile for the very first time.
"This is my first year. My teammate Katie Matthews is from the area and has run it before, so she recommended it," said the 30-year-old Uceny, a 2012 Olympian. "It's beautiful. I think road races have a great atmosphere. There's a lot of people competing, but also a lot of people spectating so it makes it fun."
Continue reading at: www.newburyportnews.com