Olympian, Mile legend Jim Ryun delivers message of encouragement in Lancaster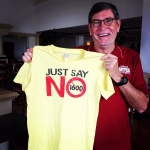 November 19, 2016
"I've encouraged the next generations of runners, which is in part what my wife and I like to do. So many people have contributed to who we are that it's an opportunity to give back to the next generation."
By Steve Navaroli, LancasterOnline
As a three-time Olympian and politician, Jim Ryun is accustomed to a whirlwind schedule, so this week in Lancaster County was nothing new.
But, with a busy itinerary of speaking engagements, appearances and book signings set up by Elizabethtown cross country coach Mark Gallagher, Ryun and his wife, Anne, have enjoyed their first time in the area.
A silver medalist in the 1500 meters at the 1968 Summer Olympics in Mexico City, Jim Ryun, in 1964, was also the first high schooler to run a sub-4 minute Mile. In 2001, ESPN named him the top High School Athlete of the 20th Century.
"We've been to Pennsylvania before, but never here," Ryun said. "Coach Gallagher is the one that worked it all out and it's been delightful."
Continue reading at: lancasteronline.com