New Balance's New Shoe Gives You a Speedier, Bouncier Mile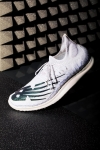 May 19, 2019
Designed to work best for the Mile, the aptly named 5280 is light, but insulated to help reduce impact: "The faster you go, the better you feel!"
By Nicholas Thompson, Wired
This past September, Jenny Simpson headed out in the rain to the start of the 5th Avenue Mile road race with two pairs of running shoes in her bag. One was trusted and familiar: a pair of New Balance Hanzo S's that she'd worn while winning on this course before. They fit her; they worked. The race is one of the most prestigious in the country, and she'd triumphed in it an astonishing five times in a row. In elite racing—as in much else in life—the gear on your feet always matters less than the buzzards in your mind. Why wear something new that might create stress?
Her sponsors at New Balance, though, were rooting for a different choice. They wanted her to go with Rick and abandon Victor Laszlo. Because the second pair in her bag was a strange test shoe. It weighed just five ounces, which is 20 percent lighter than the Hanzo S, and included a new special kind of responsive foam stretching from heel to forefoot. It also had a small carbon-fiber plate running from the front of the heel to the big toe. When Simpson had first put them on, she'd felt wobbly and bizarre, like the middle of her heels weren't touching the ground. She remembers thinking, when she tried it, that she'd end up fighting the designers. "They are going to engineer this to the moon, and it's going to not be something I'm comfortable with."
But the new shoe had some advantages. New Balance had strapped oxygen masks to Simpson's face while she ran on the treadmill, measured her blood lactate level, attached motion-capture sensors to her body, photographed the angle with which her feet landed, and assured her the new shoe would make her faster. Simpson is perhaps the best female American Miler ever, with a 2016 Olympic bronze medal and all sorts of records to her name. But the engineers swore the shoe would give her a little extra acceleration at the very end.
The race begins at East 80th Street and heads south, ending at East 60th Street. The winner is almost always decided around two blocks before the finish, at East 62nd Street. That's where Simpson would inevitably be matching strides across the avenue with several other scorchingly fast women. The shoe, according to the designers at least, was created to help the most there. It also had a special outsole with a bit of grip that would help Simpson tackle the potholes and the puddles. Running on slippery roads isn't always smooth.
Simpson had every reason to be conservative about which shoes to use. In the finals of the 1500 meter race at the 2015 World Championships, she'd lost a shoe while in second place and then struggled across the line barefoot, finishing 11th. On the day of the 5th Avenue Mile race this past September, the roads were wet, which added an element of risk to anything new. But when it was time to lace up, she reached for the unknown pair, slid the shoes on, and began to warm up
Continue reading at: wired.com