Mile Guide: May 30 - June 2, 2013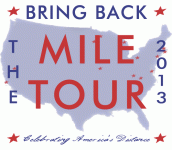 May 29, 2013
Major Mile weekend awaits Mile Maniacs in mid-west and on the west coast
By Bring Back the Mile
We're kicking things off Thursday evening in St. Louis with the Big River Festival of Miles, the sixth stop of the BBTM Tour 2013, where meet director, Ben Rosario, has again put together an incredible event for professionals and the community alike. Then on Saturday, the Music City Distance Carnival in Nashville, returns Anthony Whiteman (GBR) for another sub-4 attempt, this time at the age of 41. On the west coast, the Prefontaine Classic in Eugene has assembled what is arguably the best MIle field we'll witness in 2013 with the top 10 ranked Milers in the world facing off, including every 2012 Olympic 1500m medalist. Capping off an incredible weekend of Miles is the family friendly, tail-wagging, Platinum Performance State Street Mile, the seventh stop of the BBTM Tour 2013, in BBTM's hometown of Santa Barbara.
Below we preview these Mile events to get you ready for one of the most pivotal Mile weekends of 2013.
BIG RIVER FESTIVAL OF MILES
Thursday, May 30 - St. Louis, MO
ST. LOUIS TRACK MEN'S MILE
Mexican national record holder Pablo Solares (MEX), a 3:54 miler currently racing for the Bay Area Track Club, will face off against 2013 GO! St. Louis Half Marathon champion Aaron Braun (USA / adidas McMillan Elite), last year's runner-up Craig Miller (USA / New Balance) and Edwardsville (IL) native Stephen Pifer (USA / Speed Factory Athletics). These four headliners will be aiming to earn a $4000 payday for the win comprised of $1000 for the win, $1000 for a sub-4, $1000 for breaking Leo Manzano's 2009 event and Missouri state record of 3:55.29, and $1000 for the XS Energy Battle of the Sexes Bonus versus the Speed Factory Athletics Women's 800m field. The Battle of the Sexes bonus will be scored as follows:
1189 points - 1:58 / 3:51
1153 points - 2:00 / 3:54
1118 points - 2:02 / 3:56
1083 points - 2:04 / 3:59
It will not be easy for the Men's field with Team USA Minnesota's Heather Kampf (2:00.41 PR) back to defend her Battle of the Sexes title. Joining her will be 2012 Olympic semi-finalist Jessica Smith (CAN) who boasts a 1:59.86 PR as well as local favorite Shannon Leinert (Big River Running Company) who comes in with a 2:01.65. We give the nod to the women, but Miller, Pifer and Solares can certainly pull off a 3:56-57 to make things interesting. Our dark horse is Austin TC's Duncan Phillips, who is coming off a 3:39 1500m at the Oxy High Performance Meet earlier this month.
MOMILESPLIT.COM BOY'S & GIRL'S MILES
And not to be overlooked is a stacked prep Mile field on both the boys and girls side. The girl's race features three 2012 Foot Locker National Finalists and state champions from Arkansas, Iowa, Oklahoma and Missouri. Highlighting the field is freshman sensation Stephanie Jenks (IA) who recently ran 4:44.50 at the adidas Dream Mile, the fourth fastest prep Mile in the United States this year. She will face stiff competition from defending champion and local favorite Hannah Long (MO - 4:56).
Another Iowan highlights the boy's Mile field - Jason Thomas out of Des Moines who ranks 13th in the U.S. at 1600m with a 4:10.14. Not too far behind is Alex Riba (IL) ranked 15th in the U.S. for 1600m with a 4:10.41 and was the Nike Cross Midwest Regional champion last fall. Glendale's Spencer Haik (MO) is the top local contender with a 4:11.76 1600m best, which ranks 28th in the U.S. and Marquette's Noah Kauppila rounds out the field.
MUSIC CITY DISTANCE CARNIVAL
Saturday, June 1 - Nashville, TN
In nearby Nashville, the Music City Distance Carnival is once again assembling a great Mile field. Four sub-4 Milers are provisionally entered along with another four with bests of 4:00-4:02. Highlighting the field is defending champion Anthony Whiteman (GBR), who last year set a World Outdoor Masters Mile record with his 3:58.79. He became the first Master (40 and older) to dip under four minutes outdoors and the second to do so along with Eamonn Coghlan (IRL). Can he do it again in 2013? Recent performances says there is a chance, having run 3:45.21 two weeks ago for 1500m.
PREFONTAINE CLASSIC BOWERMAN MILE
Friday, May 31 & Saturday, June 1 - Eugene, OR
Television & Webcast Information
NBC Sports Network 12:30PM - 1:30PM PST / NBC 1:30PM - 3:00PM PST
At the historic Hayward Field, one of the greatest Mile fields ever assembled will toe the line in the Bowerman Mile. All three 2012 Olympic 1500m medalists as well as the top 10 Milers in the world as ranked by Track & Field News will be present. The American contingent includes 2012 Olympic silver medalist Leo Manzano (Austin TC), 2011 World Championship bronze medalist Matthew Centrowitz (Nike Oregon Project), and 2-time Olympian Lopez Lomong (Oregon TC).
In the Friday night Men's International Mile, a string of Americans who have been racing well in 2013 will join a strong international contingent. 2013 USA Indoor Champion, Will Leer, 2012 Olympian Andrew Wheating and the Bay Area TC's David Torrence lead the charge for the U.S. Also, High School phenom, Bernie Montoya has been a recent addition in the field for a sub-4 Mile attempt. The Men's National 1500m field on Friday night is also stacked with U.S. Mile record holder, Alan Webb, along with Garrett Heath, Jordan McNamara, AJ Acosta and others seeking the 2013 World qualifying standard of 3:35.00.
PLATINUM PERFORMANCE STATE STREET MILE
Sunday, June 2 - Santa Barbara, CA
Capping off the weekend of Mile is the seventh stop on the BBTM 2013 right in BBTM's own backyard. The Platinum Performance State Street Mile is a fast, downhill road course that goes right through the heart of historic downtown Santa Barbara. With a tradition dating back to 1983, this family-friendly road Mile, including the unofficial world championship Platinum Performance Dog Mile, has welcomed athletes of all ages and abilities. It also boasts more than $2000 in prize purses for professional Men and Women as well as Masters athletes.
COURSE RECORDS
Open Men - 3:52 Mike Chavez (USA / CA), 2007
Open Women - 4:33 Melissa McBain (USA / CA), 2005 & 4:33 Tara Erdmann (USA / CA), 2012
Masters Men - 4:11 Mike Egle (USA / IL), 2004
Masters Women - 5:03 Cindy Abrami (USA / CA), 2012
Dog Mile Men - 4:22 Matt Johnsrud & Charlie, 2008
Dog Mile Women - 5:02 Kasey Urman, 2012
MORE MILES ACROSS THE UNITED STATES
For complete list of Mile events visit the BBTM Mile Calendar
Carlisle Downtown Mile - May 30, Carlisle, PA
Inaugural PSA Mile Challenge - June 1, Portland, OR
Inaugural Gosport Golden Mile - June 2, Gosport, GBR