Meet Kerri Gallagher, Team USA's newest member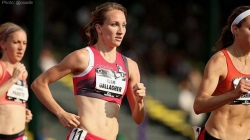 July 09, 2015
At the Lignano Meeting, rising Mile star smashed her personal record, running 4:03.56 for the win. Three seconds faster than the "A" standard and five seconds shaved from her PR.
By Meg Bellino, FloTrack
Many were expecting Jenny Simpson and Shannon Rowbury to take over the women's 1500m finals at the 2015 USA Outdoor Track & Field Championships, and it was no surprise when they finished 1-2 at Hayward Field in Eugene, Oregon. But the woman who would join them on the podium was up in the air. Some thought Katie Mackey, but she opted for the 5000. Some thought American Junior record-holder Alexa Efraimson, but she did not make the final. Others thought Sarah Brown or Treniere Moser, women who achieved their IAAF "A" standards in the fast Prefontaine Classic race a month prior.
But the third-place finisher wore Oiselle across her chest. She came into the meet with a 2013 4:09 PR and lowered it to 4:08 in the preliminary round. It was a surprise to some, but not to Kerri Gallagher.
"I've been progressing well and kind of developing in each race," Gallagher said over the phone a week after the race. "Every race I feel like I've come away with something positive."
Since 2011, Gallagher has been trying her hand at professional running. So where is this breakout season coming from?
Continue reading at: www.flotrack.com