Maton still paying for his magical Mile as prep career closes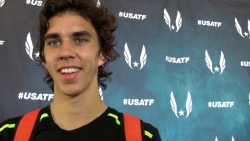 June 28, 2015
Maton had more he wanted to accomplish before moving onto his next phase at Oregon, which he achieved with a time of 14:47.10 in the 5000 meters Friday at the USATF Junior Outdoor Championships.
By Austin Meek, The Register Guard
Somewhere in his room, Matthew Maton has a pair of shoes he'll never wear again.
Weeks before he did it, Maton knew what he would be wearing when he broke 4 minutes in the Mile. He picked out a pair of Nike spikes and wrote "sub-4" on them, thinking he would wear them once and keep them as a memento of his achievement.
This was a risky decision, trying something in a race that hadn't been tested in practice. But if Maton — a Bend native who will compete for Oregon next year — could break the 4-minute barrier, he figured he'd be happy to deal with whatever happened next.
"I did actually tell myself, 'If I break four, I wouldn't mind getting injured and just not running the rest of the season,'" Maton said. "But I guess that wasn't necessarily true, because I was pretty bummed out once it did happen."
Maton's magical night happened six weeks ago at the Oregon Twilight, when he clocked 3 minutes, 59.38 seconds to become the sixth American high schooler to break 4 minutes in the Mile. The achievement came with a price: a sore Achilles, which kept him from running again until this week's USA Junior Track & Field Championships.
Continue reading at: registerguard.com