Masters, Lipari Win First USA Titles at Grand Blue Mile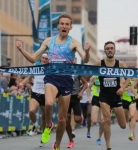 April 24, 2018
9th event edition awards $25,000 national championship purse; first stop on the BBTM Grand Prix #Tour2018
From Drake Relays
DES MOINES, Iowa – In down-to-the-wire exciting finishes, Riley Masters and Emily Lipari bested their respective fields to win the 9th Grand Blue Mile, the USATF 1 Mile Road Championships on Tuesday evening, April 24 in downtown Des Moines.

Masters, 27, who was second in the event last year and third in 2016, finished in 4 minutes, 3.12 seconds to earn his first USA title against a field of 20 of the nation's top Milers. Eric Avila and Nick Harris followed closely in second and third, clocking 4:03.90 and 4:04.31, respectively.

"Once I crossed the finish line it was pure ecstasy, I was so excited," said Masters, who lives in Boulder, CO. "I told myself at the start line, 'you worked so hard this year, why settle for anything but first?' I'm happy to finally come out on top here."

Lipari, 25, the 2014 NCAA Indoor Mile champion, held off 2016 Rio Olympian Brenda Martinez at the tape, 4:32.77 vs. 4:33.07, followed by Rachel Schneider in third at 4:33.77 among the 15-runner field.

"It's pretty unreal. I set out to podium, that was the goal," said Lipari, a resident of Poulsbo, WA. "I'm really happy to come out with the win and it's a great way to start out the year."
Masters and Lipari each took home $5000 for their national titles as a total of $25,000 in national championship prize money was awarded to the top 10 finishers.
The Grand Blue Mile was also the first stop on the 5th Bring Back the Mile Grand Prix Tour, featuring five of America's best Mile events. Lipari is the reigning women's Tour champion, while Masters captured the Tour 2016.
More the 3,500 runners covered the Mile road course in recreational, competitive and invitational races. One of the highlights of the men's recreational race was 96-year-old Mike Fremont of Cincinnati, Ohio, setting the American road Mile record in the 95-99 age group category with a time of 13:55.82. He will appear at Drake Stadium Friday morning to attempt to break the World Record in the 800 meters.
9th Grand Blue Mile: USA Championships
Bring Back the Mile Grand Prix Tour 2018 first stop
Des Moines, IA, Tuesday evening, April 24, 2018
MEN
1) Riley Masters (CO), 4:03.12, $5000
2) Eric Avila (CA), 4:03.90, $2500
3) Nick Harris (CO), 4:04.31, $1500
4) Daniel Herrera (LA), 4:04.32, $1250
5) Brandon Lasater (GA), 4:04.39, $1000
6) Garret Heath (WA), 4:04.96, $500
7) Tripp Hurt (CO), 4:04.99, $300
8) Pat Casey (MT), 4:05.07, $200
9) Brannon Kidder (WA), 4:05.38, $150
10) Emmanuel Bor (CO), 4:05.77, $100
WOMEN
1) Emily Lipari (WA), 4:32.87, $5000
2) Brenda Martinez (CA), 4:33.07, $2500
3) Rachel Schneider (AZ), 4:33.77, $1500
4) Shannon Osika (MI), 4:33.94, $1250
5) Katie Mackey (WA), 4:34.93, $1000
6) Sarah Brown (CA), 4:37.15, $500
7) Therese Haiss (OH), 4:38.02, $300
8) Eleanor Fulton (OR), 4:39.10, $200
9) Dana Mecke (TX), 4:39.90, $150
10) Megan Mansy (NY), 4:40.81, $100
Complete results, including winner videos, at: godrakebulldogs.com