Manzano Named USATF Athlete of the Week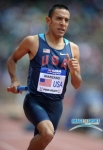 May 03, 2012
By Katie Landry, USATF.org
INDIANAPOLIS - Leo Manzano (Austin, Texas) has been named USA Track & Field's Athlete of the Week after anchoring his team to victory in the distance medley relay Saturday at the 13th edition of the USA vs. the World at the Penn Relays.
Manzano received the baton for Team USA Blue for the final 1,600-meter lap in second place, with Bernard Lagat of Team USA Red leading. Manzano worked to close the gap on Lagat and was running off of his shoulder at the bell lap. With 200m to go, Manzano surged ahead of Lagat and held off a charge from Ethiopia's Aman Wote. Manano split 3:54.9 for his leg to lead his team to a 9:19.31 finish.
"I was really excited to be out there," Manzano said in a phone interview from his high-altitude camp in Utah. "Any time you run against Bernard Lagat, he's a competitor. I knew I had to focus on myself and bring my "A" game and be a competitor."
Manzano and his relay teammates Tyler Mulder, David Neville and Khadevis Robinson to form the first American team to ever with the distance medley at USA vs. the World. Their win was part of a six-race sweep of the event by Team USA.
Read complete article at www.usatf.org