Lost American Mile Masters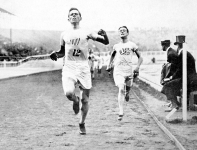 April 23, 2013
Lesser-known runners larger-than-life champions in their day
By Roger Robinson, Running Times
Name the only American middle-distance runner to win four Olympic gold medals. Which great American Miler was rejected by the New York police because of a suspect heart?
Which famous American runner once wrestled a competitor to the floor during a race?
The answer to all three questions is the same: Mel Sheppard.
Sheppard was the greatest track star of the 1908 London Olympics, winning the 800m and 1500m, both in world records, and anchoring the USA to victory with a brilliant 800m in the 1600m medley relay. At Amsterdam in 1912 he won another gold, in the 4×400m relay, and silver in the 800m. The NYPD must have wondered if they got it wrong when they rejected him because of his "enlarged heart." From New Jersey, Sheppard was huge on the thriving East Coast track circuit, setting the indoor Mile world record as well as WRs at 600, 880 and 1000 yards.
He was lucky to make it to the Olympics. The winter before the 1908 Games, he and his times were beaten by Guy Haskins, an unknown New Zealander studying dentistry at the University of Pennsylvania. In the rivals' climactic matchup over 1000 yards in Philadelphia on Jan. 24, 1908, Haskins again started to pass, when the infuriated Sheppard grabbed him round the neck, flipped him over and flung him to the floorboards with a "flying mare" throw, then sprinted the final two laps alone. Whether this suggests Sheppard would have made a good New York cop is a matter of opinion, but officials banned him, though only for five weeks. What would he have had to do to get seriously penalized? Knife the guy on the start-line?
Continue reading at: runnersworld.com