Long journey to Olympics for one-time high school phenom Vazquez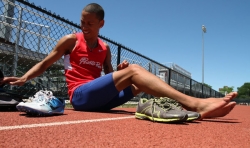 July 15, 2012
28-year-old volunteer coach at the Illinois Institute of Technology to represent Puerto Rico in 1,500 meters
By Philip Hersh, Chicago Tribune
On June 14, 2003, Sam Vazquez ran the Adidas National Scholastic High School Meet in Raleigh, N.C., against one of the fastest prep mile fields ever assembled. Vazquez won in 4 minutes, 3.87 seconds, beating — among others — eventual two-time U.S. Olympian Leonel Manzano.
Vazquez, then a high school senior, and his coaches, present and future, justifiably figured he was on a fast track to make an Olympic team as well.
Almost nine years later, in an unheralded June 16 Indianapolis race that ended just before midnight, the 28-year-old volunteer coach at the Illinois Institute of Technology went back to the future.
By running the 1,500 meters in a national-record time of 3:37.60, Vazquez qualified to join old rival Manzano in the metric mile at the 2012 Olympics.
Continue reading at: chicagotribune.com