Local runner to attempt a sub-4 minute Mile at inaugural Sir Walter Miler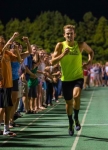 July 25, 2014
Sandy Roberts: "And I hope to be a part of history and a real exclusive club."
By Clare Myers, North Raleigh News
RALEIGH — When Sandy Roberts came close to running a sub-4 minute Mile last August, he admits he was a bit disappointed.
"I would've liked to be at or closer to four minutes," said the former North Carolina State and Broughton High standout, whose official time of 4:06 was nearly five seconds slower than his personal record of 4:01.24.
On Friday, Aug. 1, Roberts will step on the track to take another shot at breaking that barrier in the inaugural Sir Walter Miler. A more organized and official version of last summer's " Sandman Mile," the Sir Walter Miler will pit Roberts against other elite runners at the Meredith College Track.
The night will be about more than just running, though. The event kicks off at 7:00pm with a pre-race party at nearby Raleigh Brewing Company, with live music, giveaways and food trucks. The trio of race organizers, which includes Roberts, his brother (and trainer) Logan, and race director Pat Price, aim to attract a mix of runners and non-runners.
"We want to have a high intensity 45 minutes: loud music, high energy," Logan Roberts said.
Continue reading at: www.northraleighnews.com