Lipari, Willis win inaugural Guardian Mile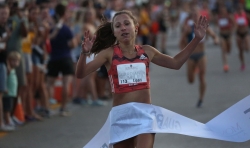 August 11, 2018
Debut road race draws 400 runners and awards $14,000 prize purse
By Mike Peticca, special to cleveland.com
CLEVELAND, Ohio - Numerous big cities have signature Mile road runs, and Cleveland hopes to join the club.
Based on the organization and the spirit at Saturday night's first running of the Guardian Mile, make room for The Land.
"This will be a signature event for Cleveland," said Mentor's Heidi Yocum, who volunteered with her husband, Mark, as timers for the five various races.
"Cleveland is a running area, and northeast Ohio is known for its running. It's a one-way run, and it's great for the runners, knowing it's a straight shot to the finish line."
Nick Willis of New Zealand, a two-time Olympic medalist, and former NCAA indoor Mile champion & reigning Bring Back the Mile Grand Prix Tour champion Emily Lipari won the featured races - the Monticello Elite Men's & Women's races, respectively.
Runners started at West 24th Street near the West Side Market and crossed the Hope Memorial (Lorain-Carnegie) Bridge, past the Art Deco guardian figures for which the race is named. After the uphill start, the last half-mile of the USATF-certified course goes gradually downhill, finishing near the Western Reserve Fire Museum, across from Progressive Field.
Continue reading, with event photos, at: cleveland.com