Lewisburg's Jenna Farmer enjoys the challenges of the Mile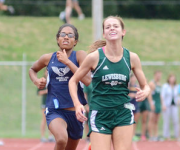 April 24, 2015
The Bucknell bound senior has a 'wonderfully egalitarian' take on running competitively.
By Todd Stanford, The Daily Item
If you want to know how Lewisburg senior Jenna Farmer became one of the top middle-distance and long-distance runners in this region, then listen to her describe why the Mile is her favorite race.
"It's four laps, so you really have to keep your head in the race and your body really gets tired," she says. "It's hard to stay mentally in the race. But I like that challenge."
She likes the challenge of running four laps as opposed to two (the 800m) or one (400m)? Absolutely. That's the thing about successful long-distance runners: They have a bit of a masochist in them. They like the pain and the challenge. That's why someone like Farmer is heading to Bucknell to run at a Division I level. (Whereas I, who also ran the Mile and two-Mile as a teenager, have spent most of my post-high school years sitting on the couch while enjoying a Toblerone and Big Gulp. If I occasionally come across a distance race on TV, I might pause for a moment and think, 'Oh yeah. I remember those days.'")
Farmer, the reigning Daily Item Girls Track Athlete of the Year, took fourth in the state last year (Class AA) in the 1600m, finishing in a personal-record time of 4:56.49.
Continue reading at: www.dailyitem.com