Laced with sporting history: The last tangible link to Bannister's sub-4 Mile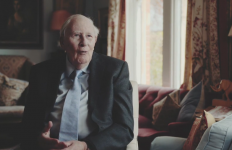 May 23, 2015
Christie's to auction the shoes worn by Sir Roger Bannister when he became the first man to run a sub-4 minute Mile, described as the 'greatest athletic achievement of the 20th century'
From Christie's The Art People
The running shoes worn by Sir Roger Bannister CBE when he became the first man in history to run a sub-4 minute Mile are to be auctioned by Christie's this September. Forbes magazine named Bannister's historic milestone as the 'greatest athletic achievement of the 20th century'.
This historic race took place on May 6, 1954 during a meet between the British Amateur Athletics Association and Oxford University at the Iffley Road Track in Oxford. The shoes Bannister wore for his record-breaking run were made by Charles Law of GT Law and Son, Wimbledon Park, London, and weighed four and a half ounces, much lighter than any existing shoes.
'I could see there was an advantage in having the shoe as light as possible,' says Bannister, who started his running career whilst he was a medical student at Oxford in 1946 and soon showed great promise as a 'Miler'. 'The leather is extremely thin and the spikes are unusually thin, as I used a grindstone to make them even thinner. These shoes are the last tangible link I have with the 4 minute Mile. All my trophies are now on display at Pembroke College Oxford, where I was Master.'
Before setting the record, Bannister had been selected as an Olympic 'possible' in 1948 before competing in the 1952 Olympics in Helsinki where he finished fourth, and set a new British record of 3:46.30 in the 1500 meters. It was after missing out on a medal that he set himself a new goal: to be the first man to run a Mile in under 4 minutes.
'They served me great purpose, I'm grateful to them,' says Sir Roger of the shoes, which carry an estimate of £30,000-50,000 and will be presented in the Out of the Ordinary sale at South Kensington on September 10, together with an accompanying letter of provenance signed by Sir Roger Bannister, and a letter written by Eustace Thomas to Bannister prior to the race denoting 'the lightness' of the shoes.
'I think it's the right time to part with them and I plan to give part of the proceeds to the Autonomic Charitable Trust (ACT) which encourages the area of neurological research to which I have devoted most of my life,' explains Sir Roger. 'Other worthwhile causes in which I have an interest will also benefit.'
Sir Roger Bannister had a distinguished career in neurological medicine and was in 2005 given the first lifetime achievement award from the American Neurological Association. He made leading academic contributions to the field of autonomic failure. He also became the first ever chairman of the Sports Council in the United Kingdom and was knighted for his service in 1975. The sporting accolades he gained after his athletic career ended include being the first recipient of the Sports Illustrated Sportsman of the Year award in 1954.