Kampf Three-Peats at KPMG Front Street Mile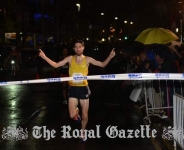 January 17, 2015
David Bishop wins two-horse race at 27th edition in Bermuda
By Josh Ball, The Royal Gazette
David Bishop won an anti-climactic KPMG Front Street Mile Elite Men's race as the Bermuda Marathon Weekend got off to a typically soggy start last night.
Bishop, of Britain, came home in a time of 4 minutes, 20.15 seconds just over a second ahead of Diriba Yigezu, of Ethiopia, who ran a 4:21.38, the only other man in the race.
What had started out as a five-man field was whittled down to just three in the hours leading up to the race, and Henry Kipsang, of Kenya, dropped out at the last minute to leave Bishop and Yigezu to fight it out between them. It is the first time the race has been that small.
"It was a weird experience, I've never done that before," Bishop said. "I've had three before, never two, it was kind of weird. I've missed a lot of training recently with an achilles issue, and when I saw there was two of us I thought it could be a 'sit and kick kind of burn up' which I didn't want."
Bishop has been working with James Thie, a previous Front Street Mile champion, for the past seven years and that knowledge had already given him an idea of how he wanted to run the race.
Continue reading at: www.royalgazette.com