Julie Shea and Wesley Frazier share a love of running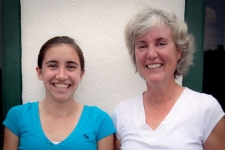 June 24, 2012
By Tim Stevens, The News & Observer
Julie Shea Sutton and Wesley Frazier are separated by generations, but the love of running they share gives them a common link.
Frazier, a senior at Ravenscroft School, broke Shea's high school girls state mile record during a race in New York on June 9 and is challenging Shea's previously undisputed title as all-time top girls high school distance runner in North Carolina.
Frazier, 16, is quiet and humble in interviews, traits with which Shea can relate. Frazier has great respect for Shea, who not only was a great runner, but also a pioneer at the dawn of women's athletics in North Carolina high schools.
"I don't know when I first heard of Julie Shea," Frazier said Wednesday as she met the N.C. Sports Hall of Famer for the first time over lunch in Raleigh. "But I've heard about her for a long time."
Shea set the national high school girls mile record in 1977 with a 4:43.1 when she was a senior at Cardinal Gibbons High. No North Carolina girl had come within three seconds of the record in more than 30 years before Frazier ran a 4:42.78 during the adidas Grand Prix Dream Mile this month.
Continue reading at: newsobserver.com