Johnson City to Host Multi-State High School Track Meet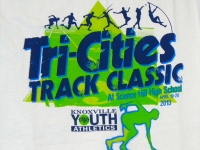 February 23, 2013
By The Johnson City News & Neighbor
JOHNSON CITY, Tenn. - The inaugural Tri-Cities Track Classic is scheduled for April 19 and 20 at Science Hill High School's Kermit Tipton Stadium. Event planners say the meet will be an event that's unprecedented in high school track and field in the region. In fact, the closest parallel for an existing Tri-Cities event would be the Arby's Classic basketball tournament...
...That level of competition will create an environment in which the nation's best young athletes push each other to greater accomplishments, says Marty Sonnenfeldt. "It would not surprise me to see 25 U.S. Top Ten times come out of this meet."
The organizers of the meet have literally gone the extra Mile to bring attention to the meet by becoming part of the National "Bring Back the Mile Tour." That tour is comprised of meets in which the 1500 or 1600 meter race is replaced by a Mile run.
"Many people have some difficulty coming to grips with what a good 1500 or 1600 meter time is," says Sonnenfeldt. "But everyone relates to what a good Mile is. It's on your odometer. You typically have a good idea what a Mile is when you're just walking down the street. Bring Back the Mile's mission nationally is to bring back the Mile race as a premiere event in track and field in the U.S."
Continue reading at: newsandneighbor.com