Illini's Davis is chasing lofty goals for this season, and beyond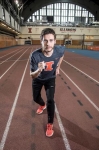 January 28, 2019
"It's definitely an honor to be one of those [sub-4] people. I'm really happy to have gotten to the level that I thought might not be possible for me."
By Matt Daniels, The News-Gazette
CHAMPAIGN — A year ago, Jon Davis had never run a Mile in less than 4 minutes.
Now, the Illinois junior and pride of Oakwood High School has accomplished the feat twice.
The distance runner for the Illini men's track & field program won't get the chance to crack the barrier for a third time at Sunday's Illini Invitational at the UI Armory. He's set to just run in the 800 meter race at approximately 4:15pm.
"Which is exciting in its own right," Davis said with a grin, "but no milestones in that, at least as far as I know."
Milestones are what the 21-year-old Davis has racked up during his time at Illinois. Case in point: what he accomplished last Saturday in Iowa City, Iowa.
Davis clocked in with an Illinois record of 3 minutes, 58.06 seconds, bettering his own personal record time of 3:58.46 that he set at last year's Illini Classic on Jan. 27, 2018.
"I usually listen to music before I run, and I turn my phone on airplane mode," Davis said. "When I turned it back on after the race, it blew up, which that never gets old. It just shows you the support that's behind you, and it's pretty humbling."
Davis is used to running success. He did so with each race at Oakwood, winning three cross-country state titles in Class 1A and six state titles in 1A track & field with his specialities in the 1600 and 3200 meters during his time with the Comets.
Continue reading at: news-gazette.com