Heather Kampf Named to U.S. Indoor Team for Worlds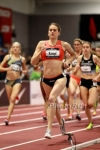 March 03, 2014
Mary Cain, U.S. 1500m indoor champion, withdraws with a calf injury.
By Jon Gugala, Competitor.com
It was around 9:00am this morning and Heather Kampf had just run 10 miles on the treadmill, escaping the interminable Minnesota winter, when she received a call from a phone number she didn't recognize. She let it go to voicemail. It was Sandy Snow, USATF's Director of International Teams & Championships, with an offer for a ticket to Poland.
USA Track & Field announced this morning that Mary Cain, Nike Oregon Project athlete and mid-distance wunderkind who won the 2014 USA Indoor Championships 1500 meter title, had withdrawn from the IAAF World Indoor Championships to be held in Sopot, Poland from March 7-9. In the USATF release, Cain said she is feeling "discomfort" in her lower calf when she wears spikes. An MRI came back clear, but she's not willing to risk further injury.
Cain's withdrawal means that Kampf, third in the 1500m at the USA Indoor Championships just over a week ago, was next in line. When she received the news, she says she ran over to a teammate on a nearby treadmill and started "jumping around like a crazy person."
Continue reading at: www.competitor.com