GNC Live Well Liberty Mile returns to downtown Pittsburgh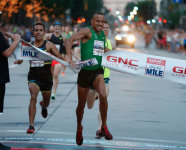 July 31, 2015
"The only other place you're going to see a field of this caliber is going to be in the Olympic Trials."
By Karen Price, Trib Live
When most people think of what can be accomplished in 4 minutes, running a Mile isn't on the list of possibilities.
On Friday, however, a dozen men capable of running a mile in 4 minutes or under will line up on Penn Avenue for the GNC Live Well Liberty Mile road race, along with six women who can run the distance in 4:30 or faster.
It is the strongest field in the history of the race, which Pittsburgh Marathon organizers first produced in 2012.
"The only other place you're going to see a field of this caliber is going to be in the Olympic Trials," P3R CEO Patrice Matamoros said.
The men's field includes 2014 winner and two-time runner-up Jordan McNamara, who edged Olympic silver medalist Leo Manzano for the victory last year with a time of 4:02.93.
Continue reading at: triblive.com