GNC Live Well Liberty Mile Celebrates 5th Edition with New Date, Increased Prize Purse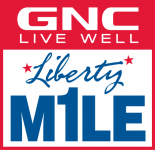 June 30, 2016
Fifth stop on the BBTM Grand Prix Tour 2016, the downtown Pittsburgh road race offers an event record $30,000, one of the largest prize purses for a Mile in the country
PITTSBURGH - P3R will celebrate the 5th anniversary of the GNC Live Well Liberty Mile with a new September date and an increased prize purse. Scheduled for Saturday morning, Sept. 17, the race will feature an event record $30,000 prize purse presented by GNC Live Well, one of the largest for U.S. road Mile events. Open to runners of all ages and abilities, the race features different waves for recreational, competitive and professional runners. The USATF-certified, u-shaped course takes participants through the Cultural District in downtown Pittsburgh.
The American Development Pro Mile features $25,000 in guaranteed prize money that goes 10 deep with each race champion awarded $5000. The GNC Live Well Liberty Mile is again part of the Bring Back the Mile Grand Prix Tour, the fifth stop in 2016.
Last year, Heather Kampf and Jordan McNamara won their American Development Pro races, clocking 4:33 and 3:59, respectively. Kampf won her third Liberty Mile crown (also 2012-13), while McNamara defended his title and also tied the event record set by Craig Miller in 2012. With 1,293 finishers, the 2015 event was also the 8th largest road Mile in the U.S.
For more event information or to register, visit: LibertyMile.org