Generation Next: Influential and Inspiring Runners Under 30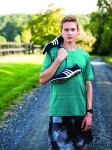 September 16, 2016
"It might be one of the hardest decisions I'll have to make. I mean, the University of Oregon is the best program in the country. Turning that down is not easy."
By Competitor.com
Drew Hunter, 18, Purceville, VA
For four years in an illustrious high school career, Drew Hunter was used to seeing the finish tape. Even though hunter is in his name, he was the one way out ahead, pulling away from the pack each lap with his upright, compact stride.
But now Hunter is venturing into uncharted territory. This high school phenom who turns 19 in September became the first American male runner to skip college and turn professional when he signed an astounding 10-year deal with adidas in July.
Blockbuster contracts, of course, are only given to big talents, and Hunter, a Miler, has been called one of the best high school runners of all-time.
Continue reading at: www.competitor.com