Gabriele Grunewald's father remembers her passion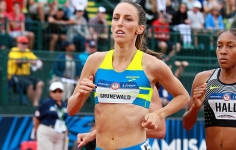 June 14, 2019
"Her story takes her through a roller coaster of stuff... she touched more people around the world than I can imagine."
By Chris Murphy, Forum News Service
MINNEAPOLIS — One of the first races Gabriele Grunewald (née Anderson) ran, she got lost. She was in middle school in Perham and ran the wrong way. She finished third or fourth, but told her dad that if she hadn't run the wrong way, she would've won.
When she was in seventh grade her dad bought her golf clubs in the spring. Grunewald went out for cross country at Perham High School the next fall and never golfed again.
"She just took to it," Grunewald's father, Kim Anderson, said. "We used to call her a little gazelle. She was a natural."
Gabe Grunewald kept running.
She ran at Perham until she graduated in 2004. She had to walk-on at the University of Minnesota, where she turned herself into an all-American in the 1500 meters. She logged her fastest time in the 1500 a day after learning she had adenoid cystic carcinoma, a rare form of cancer in the salivary gland, in 2009.
Gabe got faster after learning she had thyroid cancer in 2010. She fell one spot short of a Team USA berth at the 2012 Olympic Trials in the 1500 and later won the 2014 USA 3000m indoor title. She made it to the finals of the U.S. Olympic Trials in 2016, despite unknowingly having a grapefruit-sized cancerous tumor on her liver.
In addition, at the 2013 Minnesota Mile in Duluth, Gabe ran the fastest Mile ever run by a woman in Minnesota, clocking a 4:21.3.
"She was just fun to watch because she always had a kick at the end, even when she was hanging back," Anderson said.
She was training to qualify for the 2020 Olympics. Instead, the funeral for Grunewald will be at noon Monday, June 17, at Basilica of St. Mary in Minneapolis. She died at the age of 32 on Tuesday, June 11, from complications of cancer.
Continue reading at: wctrib.com