Gabriele Anderson Continues Beating the Odds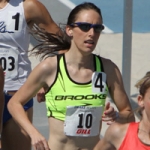 June 19, 2013
Minnesota runner ready for this week's USA Track & Field Championships in Des Moines
By Mackenzie Lobby, Competitor
Stepping onto the track at historic Hayward Field last summer for Heat 2 of the 1500m semifinal felt like a finish line of sorts for Gabriele Anderson. She went through the motions of warming up, unshaken by the fact that she was not among the favorites to make the Olympic team. As the gun fired, she sprang from the line.
Making for a tactical race, a blazing fast first lap made way for a pedestrian second lap. Anderson kept reminding herself to simply stay with the pack and maintain position. Although she always had a kick, she knew that she often employed it too late to make an impact. This time, she told her former coach from the University of Minnesota, Gary Wilson, she'd be the first to kick.
With under 300 meters to go, something unexpected happened. Running in the inside lane, another runner began to lean into her. She reacted by putting up her arm to avoid getting run off the track. To be sure, jostling for position is a skill known to every experienced 1500m runner and she wasn't about to let it impede her kick. Staying on her feet, she managed to snag second place in the heat with a time of 4:10.08, right behind Shannon Rowbury. She was going to the finals.
Continue reading at: competitor.com