Full speed ahead for Ike's Schreiber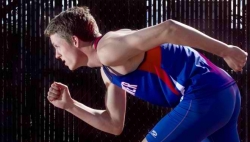 March 21, 2014
Talented senior's comment after impressive first Mile: "This year I've already run a 4:13 Mile. I'm excited to see where this all goes."
By Scott Spruill, Yakima Herald-Republic
YAKIMA, Wash. -- Drew Schreiber enters his final months at Eisenhower with national-caliber credentials, a college-ready resume and a competitive range nearly unheard of in a teenage runner.
But it's nothing.
Not compared to the prospect of what's to come. Not considering the potential that has only been flirted with and how this spring it may be finally unleashed in full.
The possibilities are not only tantalizing, they've already begun to show.
In the middle of February, with no speed sharpening and completely off base work, Schreiber competed in an indoor meet for the first time and raced a Mile seriously for the first time.
"I really wanted to know what kind of shape I was in and what would happen in my first competitive Mile," he said of his visit to the University of Washington's renowned Dempsey facility. "Honestly, I thought anything around 4:20 would've been awesome."
Continue reading at: www.yakimaherald.com