Friday's Monaco Meet is One-Day Preview of World Championships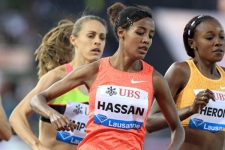 July 17, 2015
Sifan Hassan, Genzebe Dibaba and Jenny Simpson should be key players in Friday's 1500-meter race in Monaco and at the world championships next month in Beijing.
From Runner's World
The Herculis meet in Monaco is a favorite of middle-distance and distance runners. It's scheduled far enough into the track season for athletes to be race fit, and it's close enough to the Olympics or IAAF World Championships to serve as a preview for those global meets. Friday's edition features several expected finalists, including top Americans, at the world championships, which begin on August 22 in Bejing. Here are four races to watch for insight on next month's world meet.
Women's 1500 Meters
Ethiopia's Genzebe Dibaba spent the first part of the outdoor season trying, and coming close, to breaking her sister Tirunesh's world record at 5000 meters. Then, on July 8 in Barcelona, she ran 3:54.11 for 1500 meters, the fastest women's time in the event since 1997. The schedule for the world championships makes a 1500/5000 double taxing but feasible.
She's a late entry in Monaco, which means the three women who dominated the event before July 8—American Jenny Simpson, Sifan Hassan of the Netherlands, and Dawit Seyaum of Ethiopia—may have to run the best races of the season, and perhaps their lives, to stay with Dibaba.
Continue reading at: www.runnersworld.com