Famous Huddersfield Olympic medalist Derek Ibbotson dies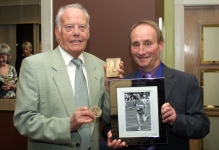 February 26, 2017
World Mile record holder and MBE part of legendary generation of British middle-distance runners in the 1950s
By Mel Booth, The Huddersfield Daily Examiner
Derek Ibbotson, one of Huddersfield's most famous sporting sons, has died at the age of 84.
The Longwood Harriers clubman passed away in a care home at Lupset, near Wakefield, last Thursday night after suffering dementia.
A bronze medalist at 5000m in the Melbourne Olympics of 1956 and the Mile world record holder – he was also the first man ever to run exactly four minutes for the classic distance – Ibbotson became a great favorite with the British public and was awarded an MBE in the 2008 New Year's Honors.
Born George Derek Ibbotson in Berry Brow on June 17, 1932, he became part of an incredible era for British middle-distance running in the 1950s.
Long-time close friend Keith Baggs – who ran alongside 'Ibbo' for Yorkshire Schools' in the 1940s – described him as a "remarkable athlete".
"Derek was a true Yorkshireman and a hell of a trainer," he explained.
"Lots of people came to be trained by him, but none of them could live up to the training regime he did over the moors – he was a real character.
"He was a remarkable athlete, he really came to his powers when he was running."
A student at King James's Grammar in Almondbury, he was Yorkshire junior Mile champion between 1949 and 1951 and after serving in the RAF, he shot to world class status in 1955 when he won the Inter-counties 3-Mile title in 13 minutes 34.6 seconds.
A year later he became AAA champion and selection followed for the Olympics, where he was on the podium behind Vladimir Kuts and compatriot Gordon Pirie.
After Sir Roger Bannister became the first man to break 4 minutes for the Mile in 1954, Derek succeeded him as world record holder by running 3:57.2 in July 1957.
Continue reading, includes wonderful photo gallery of his running life and career, at: examiner.co.uk